Thanks for that excellent summary Madeleine – particularly given that this happened a while ago, so reconstructing the whole process so clearly must have been a challenge! This inquiry had several interesting aspects, which is why we thought it was worth reporting back on.
Firstly, the question itself. As a non-specialist I thought "Are human beings rational?" sounded like a great question when Sam first suggested it…until I did a quick web search and discovered it was a fairly common and very topical question in behavioural economics and there were lots of "off the shelf" answers out there just waiting to be copied and pasted. Producing the brainstorming sheet was our way of thinking our way into the topic with a focus on the exam specification that the department wanted the students to cover, and exploring the kinds of questions that might help them to do that. The exercise was a useful reminder, if one was needed, that Connect and Wonder are just as important for us in designing an inquiry as they are for the students undertaking it. This exercise led to the subtle change of question to "Does knowing that we are irrational help us to make more rational decisions?", which pushed students to think a bit more for themselves and construct an understanding that would help them to answer the question. It also reassured everyone involved that that question could easily encompass all the relevant areas of the specification.
Secondly, the delivery method. We were relatively new to OneNote and had only started using it in earnest as a Library team to collaborate with each other in December 2017. It struck us as a really powerful tool for inquiry because it allowed us to group together all the resources students would need in one place, and to organise them easily with comments, instructions and downloadable resources. Most importantly, however, the ClassNotebook is also a very powerful collaborative tool for students: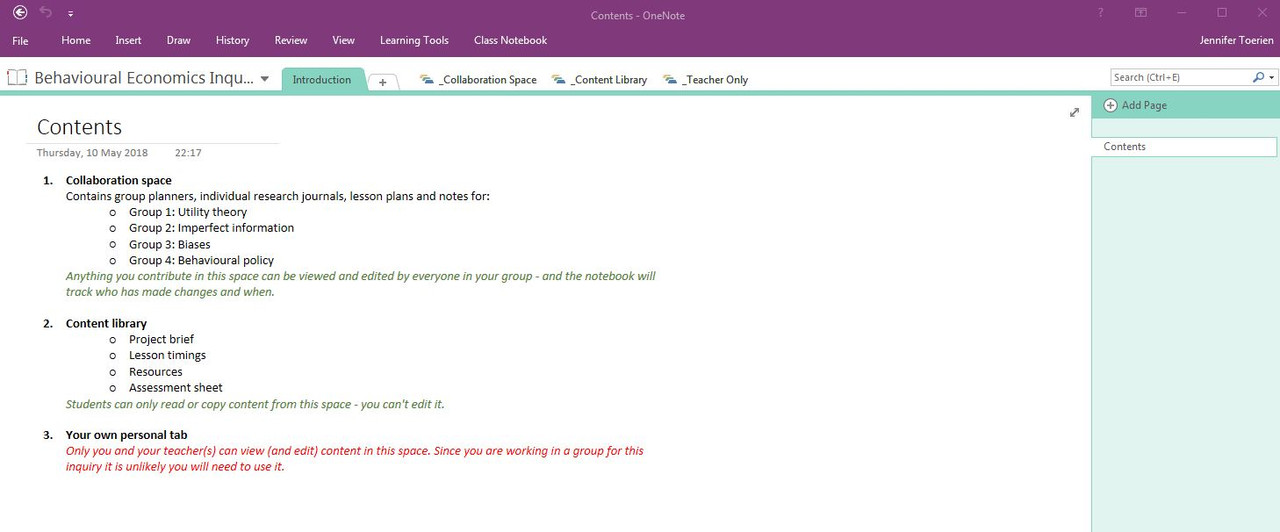 It allows everyone in a team to see what everyone else has done (and when), so if a student is absent for a lesson their team won't be stuck because they don't have access to their files.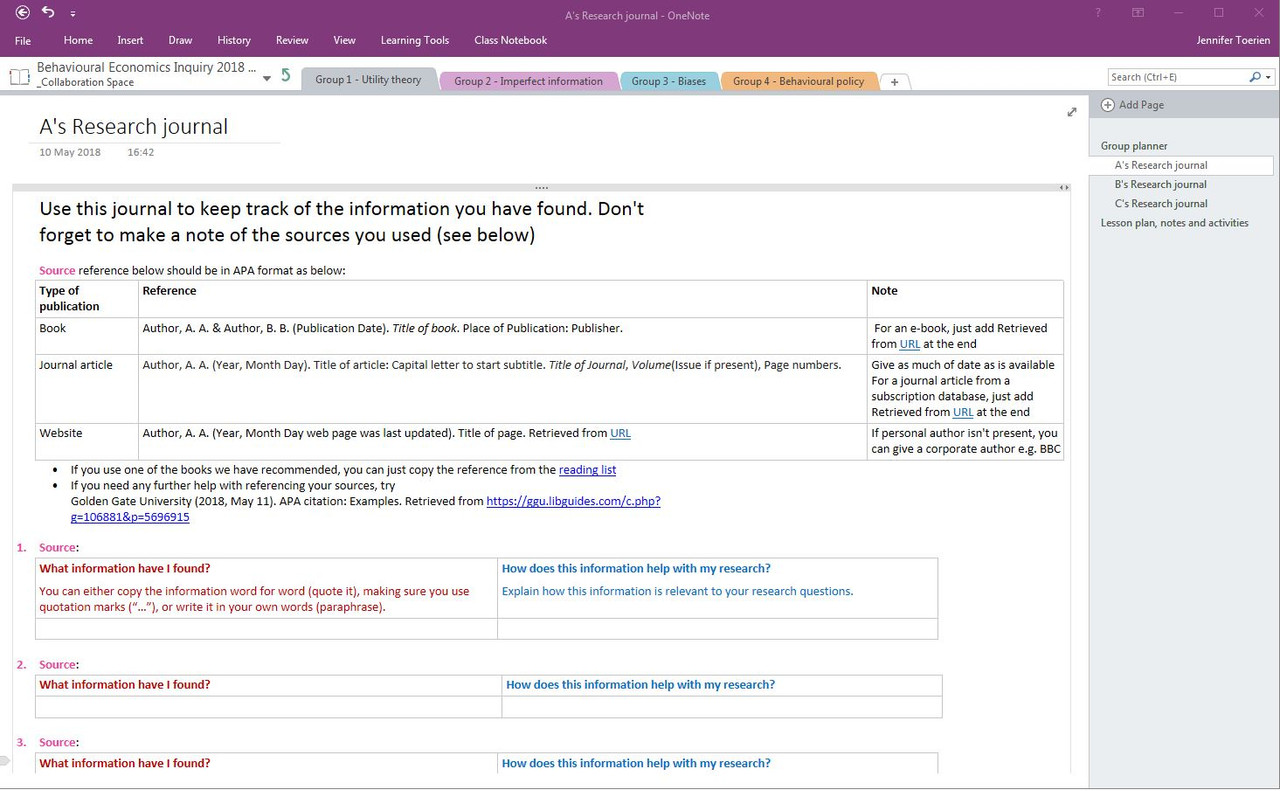 It also allows the team to collaboratively create 'To do' lists so that everyone knows what is expected of them.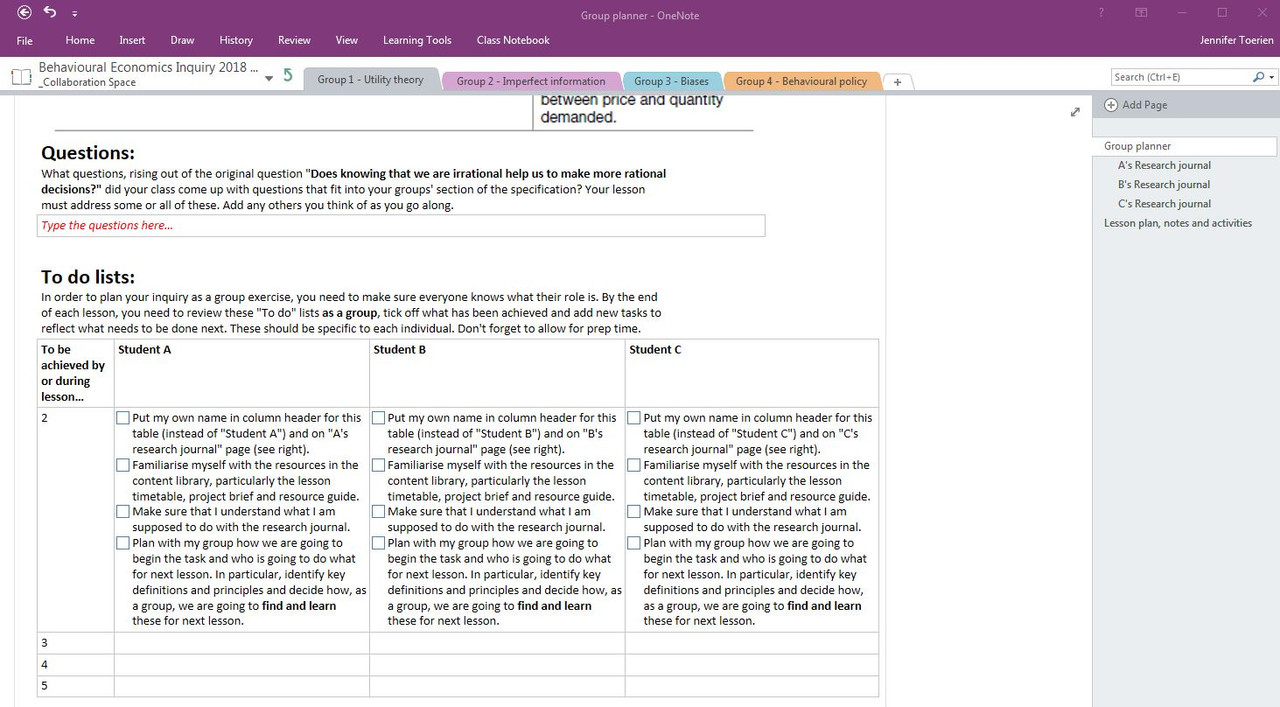 It allows the teacher to see what every individual in the team is doing, making it easier to assess individual contributions to a group project.
Teachers can control access to sections of the notebook so that students cannot access other teams' sections during the inquiry, but can open this up once the inquiry has finished so they all have access to the resources other teams have produced.
In this case it also meant that the Library staff could be added as Teachers to the Notebook so we could see how the inquiry was progressing, which helped us both to prepare for the lessons where we were team teaching and to critically reflect on the inquiry after it had finished.
It helped that some of the Economics staff were already using ClassNotebooks with their groups, so many students were familiar with them, but in setting up the inquiry in this way we also needed to be able to provide technical support as we assisted with the inquiry to make sure students could access all the materials.