Elizabeth Hutchinson runs #LibraryStaffLoveLearning, which offers free monthly discussion-based CPD for library staff.
We based an extended discussion on Focus on inquiry : a teacher's guide to implementing inquiry-based learning. This discussion, which took place during October, November and December of 2019, culminated in a Q&A in January with the co-authors, Dr Dianne Oberg (Professor Emerita) and Dr Jennifer Branch-Mueller (Professor) from the Department of Elementary Education at the University of Alberta.
The questions (see below) prompted deeply thoughtful and thought-provoking discussion, and laid the groundwork for a very stimulating Q&A.
Chapters 1-4
Chapter 1: Building a Culture of Inquiry

What is inquiry and why does it matter?
Metacognition, which is a further requirement for building a culture of inquiry, involves both thoughts (cognitive domain) and feelings (affective domain). Why is this important to bear in mind?

Chapter 2: A Model for Inquiry

Do you have a model of the inquiry process? If so, can you relate Donham's 5 uses of an instructional model to your inquiry model?

Scaffold for instruction
Gauge for feelings
Common language for teachers and students
Guide for students
Guide for monitoring

How similar/ different is the [Alberta] Inquiry Model to your model? What do you consider to be its relative strengths and/ or weaknesses?

Chapter 3: Curriculum Connections

What practical considerations emerge from the observation that "the most successful curriculum inquiry projects emerge from topics that are of personal interest to students"?
Inquiry is an approach to learning, which means that inquiry skills are learning skills, and these learning skills must enable learning across the curriculum. What particular challenges does this present?

Chapter 4: Designing Inquiry Activities

Focus on Inquiry "is intended for teachers working on their own or in teams, with or without the support of a teacher-librarian or other library personnel". Having said this, what specialist support might the librarian contribute to facilitating inquiry-based learning?
A major focus in the FOSIL Group Forum is Inquiry and resource design, with a growing collection of Resources to support inquiry and develop inquiry skills, which includes assessment. With the Planning Cycle for Teachers in mind, have a look at the Topics in Inquiry and resource design and related Resources, and share a helpful example of the planning cycle in action, either in full or in part.
Chapters 5-11
The IFLA School Library Guidelines (2015) identify inquiry as a core instructional activity of the school librarian within the school library's pedagogical program. The Guidelines state the following about instructional models of the inquiry process:
Many countries, local authorities, and school libraries have worked out very successful models for designing instruction that develops media and information literacy skills within the context of inquiry projects. Creating models for inquiry-based learning involves years of research, development, and practical experimentation. Schools without a model recommended by their education authority should select a model that aligns most closely with the goals and learning outcomes of their curricula, rather than attempting to develop their own models. (p. 41)

Where there is no locally or nationally developed model for inquiry-based teaching and learning, a school librarian should work with the classroom teachers and school leaders to select a model. As the teachers and students apply the model they may wish to adapt the model to serve school goals and local needs. However, caution should be exercised in adapting any model. Without a deep understanding of the theoretical foundations of the model, adaptations may eliminate the power of the model. (p. 43)
Consider, for example, the development of the Alberta Model of Inquiry, which is taken from Promoting Information Literacies: A Focus on Inquiry, a paper presented by Dianne Oberg at the IFLA World Library and Information Congress in 2004:
Focus on Inquiry (2004) was predated by Focus on Research (1990), which was developed to support teachers and teacher-librarians in teaching students a model of the research process and in guiding students though inquiry-based learning activities. At the request of the Alberta ministry of education, work on Focus on Inquiry, a revision of Focus on Research led by Dr Dianne Oberg (Professor Emerita in the Department of Elementary Education at the University of Alberta) and Dr Jennifer Branch-Mueller (Professor in the Department of Elementary Education at the University of Alberta), began in 2003. Focus on Inquiry was also influenced by involvement in the final editing of Achieving Information Literacy: Standards for School Library Programs in Canada (2003), the joint project of the Canadian School Library Association and the Association for Teacher-Librarianship in Canada. The revised 1990 Alberta model of the research process was informed by other process-based models of library instruction, particularly the work of Ann Irving, Michael Marland and James Herring in Great Britain and the work of Carol Kuhlthau (Distinguished Professor Emerita in the School of Communication and Information at Rutgers University) and Barbara Stripling (Professor Emerita in the iSchool at Syracuse University) in the United States, with the personal involvement of Carol Kuhlthau.
FOSIL (2011), by comparison, is based on the Empire State Information Fluency Continuum (2019) , which was originally developed in 2009 by the New York City School Library System (CC BY-NC-SA 4.0) while under the direction of Dr Barbara Stripling. The New York City Information Fluency Continuum, as it was called, was endorsed by the School Library Systems Association of New York State (SLSA) in 2012 and renamed the Empire State Information Fluency Continuum (ESIFC). The ESIFC was re-imagined in 2019, again under the direction of Barbara Stripling, to adapt to the changing information, education, and technology environments, as well as the increasing diversity in student populations – the SLSA serves more than 3.2 million children in 4,236 schools in New York State (as of 30 October 2020). The ESIFC is endorsed by the New York State Library, the New York Library Association, the New York State Education Department, and as of April 2020, the FOSIL Group. FOSIL is also informed by the work of Carol Kuhlthau, particularly her work on the Information Search Process (ISP). For more on the history of FOSIL, see here.
No single model of the inquiry process can perfectly describe the inquiry process, which means that all models of the inquiry process will have comparative strengths and weaknesses. Therefore, the value of closely examining the Alberta Model of Inquiry lies in the extent to which it deepens our understanding of the inquiry process and enables us to use our chosen model of the inquiry process more effectively.
With this in mind, compare the Alberta Inquiry Model with FOSIL (or your own model of the inquiry process if different), and reflect on their distinguishing features. For more information on each of the 6 stages in the FOSIL Cycle of Inquiry, see: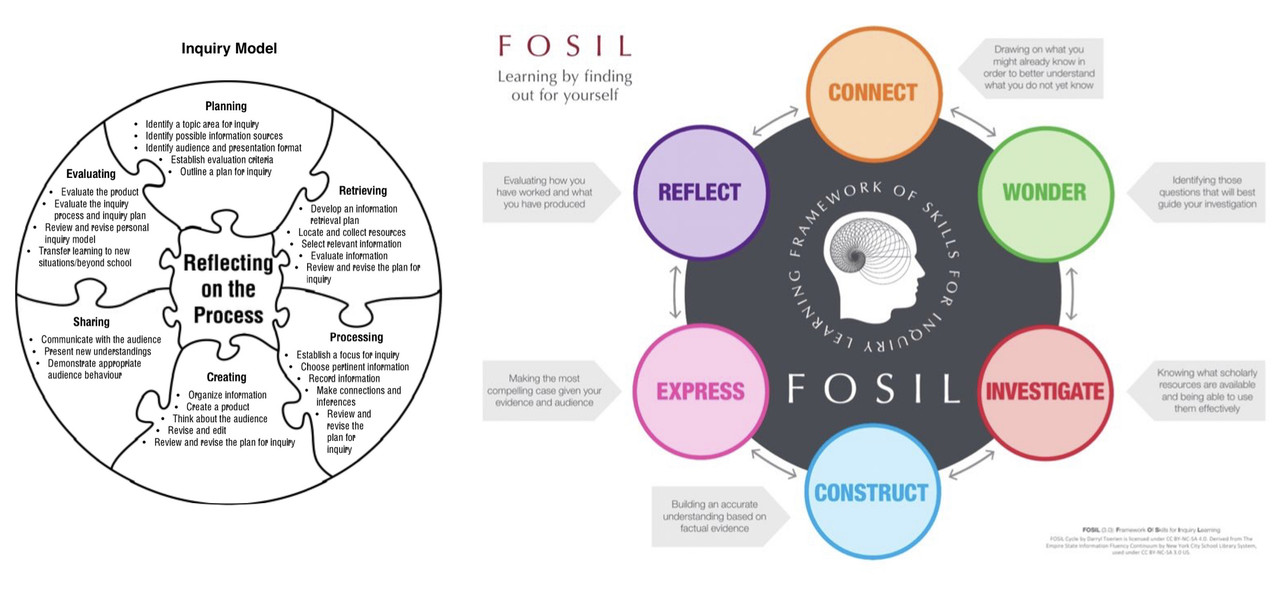 Chapters 12-13
Chapter 12: Thinking Ahead

Chapter 12 identifies some common challenges that need to be overcome when implementing a process approach to inquiry, namely cognitive overload, affective overload and time. For each of these broad challenges, identify what in your particular setting is likely to cause you the most difficulty.

Chapter 13: Professional Growth

The process approach to inquiry shifts our focus from information to the complexity of learning from information. Does this alter your understanding of what it is that you do? If so, in what way?
This shift in focus is rooted in constructivist learning theory, which holds that children actively construct knowledge – that is, they construct robust systems of belief – from information about the world, either first-hand through experience or second-hand through record. This recalls the GEN definition of inquiry as a dynamic process and stance of being open to wonder and puzzlement leading to knowledge and understanding of the world. However, educational systems tend to be ar­ranged politically and structurally to support other approaches to learning that are largely teacher-centered and focused on instruction. Seymour Papert captured this tension in his assertion that "better learning will not come from finding better ways for the teacher to instruct, but from giving the learner better opportunities to construct". Does this insight change the way in which you view and might approach collaboration with your classroom colleagues?
We clearly have a vital role to play in developing our students' metacognitive knowledge – knowledge of one's capacity to learn (person), knowledge about the nature of what is to be learned (task), and knowledge about the actions that one can take to aid one's thinking (strategy). How might you now go about developing your own metacognitive knowledge in relation to inquiry learning?