Thanks – it took me long enough 🙂
Not only do I think this is an achievable goal, but I also think that it is vital that we pursue this goal. The key to achieving this goal will be to provide confidence-inspiring evidence that approaching the ATL skills through FOSIL not only satisfies the IB's requirements for the explicit teaching of ATL skills, but actually benefits the teaching and learning of the ATL skills, as well as the Approaches to teaching more broadly (see Figure 1 below).
Figure 1: Approaches to teaching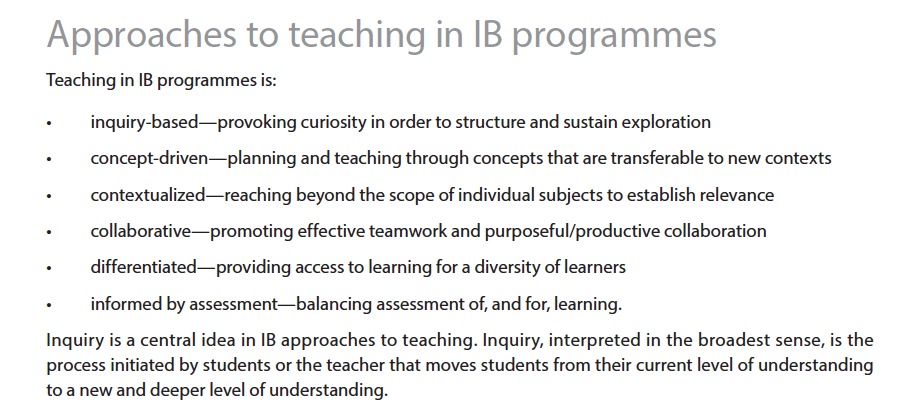 The immediate value of FOSIL (or any other sound model of the inquiry process) is that it makes the stages of the inquiry process explicit. MYP: From principles into practice makes reference to the inquiry process and the inquiry cycle, but does not, as far as I can tell, explicitly model this process/ cycle. The added value of FOSIL, as discussed in my post above, then, is that it is both a sound instructional model of the inquiry process/ cycle and a continuum of the inquiry-learning skills that enable each of the stages of the process/ cycle – see E&L Memo 1 | Learning to know and understand through inquiry by Barbara Stripling and Reflecting on E&L Memo 1 with Barbara Stripling for insight into the development of the inquiry model and continuum of inquiry-learning skills that FOSIL is based on.
It is important to be clear that approaching the ATL skills through FOSIL does not mean that all teaching and learning needs to be a full inquiry that involves all of the stages of the FOSIL inquiry process – a misconception that arises from a lack of understanding that inquiry is both a process and a stance – but it is difficult to imagine any teaching and learning that does not involve skill sets/ skills from one or more of the stages in the FOSIL inquiry process. This is entirely consistent with the view of MYP: From principles into practice that "not all approaches to teaching in the MYP will take place in an inquiry setting", and "can include lectures, demonstrations, memorization and individual practice" (p. 74).
I have not had time today to include a practical example, but will aim to do so tomorrow.
By way of encouragement from MYP: From principles into practice (p. 64):
Schools can use this list [of ATL skills] to build their own frameworks for developing students who are empowered as self-directed learners, and teachers in all subject groups can draw from these skills to identify approaches to learning that students will develop in MYP units.