Changes for 2020-21 
In principle splitting the guide in two (see above) was a good idea. One thing I found challenging about many of the EE LibGuides I found online was how many tabs they had (including nested tabs), and how complicated they made the whole process look right from the outset. By splitting the guide I reduced the number of tabs and left open the opportunity to provide much more nuanced subject-specific guidance (which could broaden out into coursework support).
In practice it turned out to be a sledge-hammer-to-crack-a-nut approach and created these problems:
I ended up with 26 individual guides to deal with. While the platform allows you to mirror pages between guides (so that if you edit one copy it changes in all of them), making it possible to curate this number of guides, I only realised once I got going that this should be used sparingly because it makes it very difficult to use hyperlinks to navigate the guide. On a mirrored page you can't hyperlink to another place the same subject guide because the link in the template for the mirror will only point to a single page e.g. in the English guide, which is no use at all for the 25 other subjects.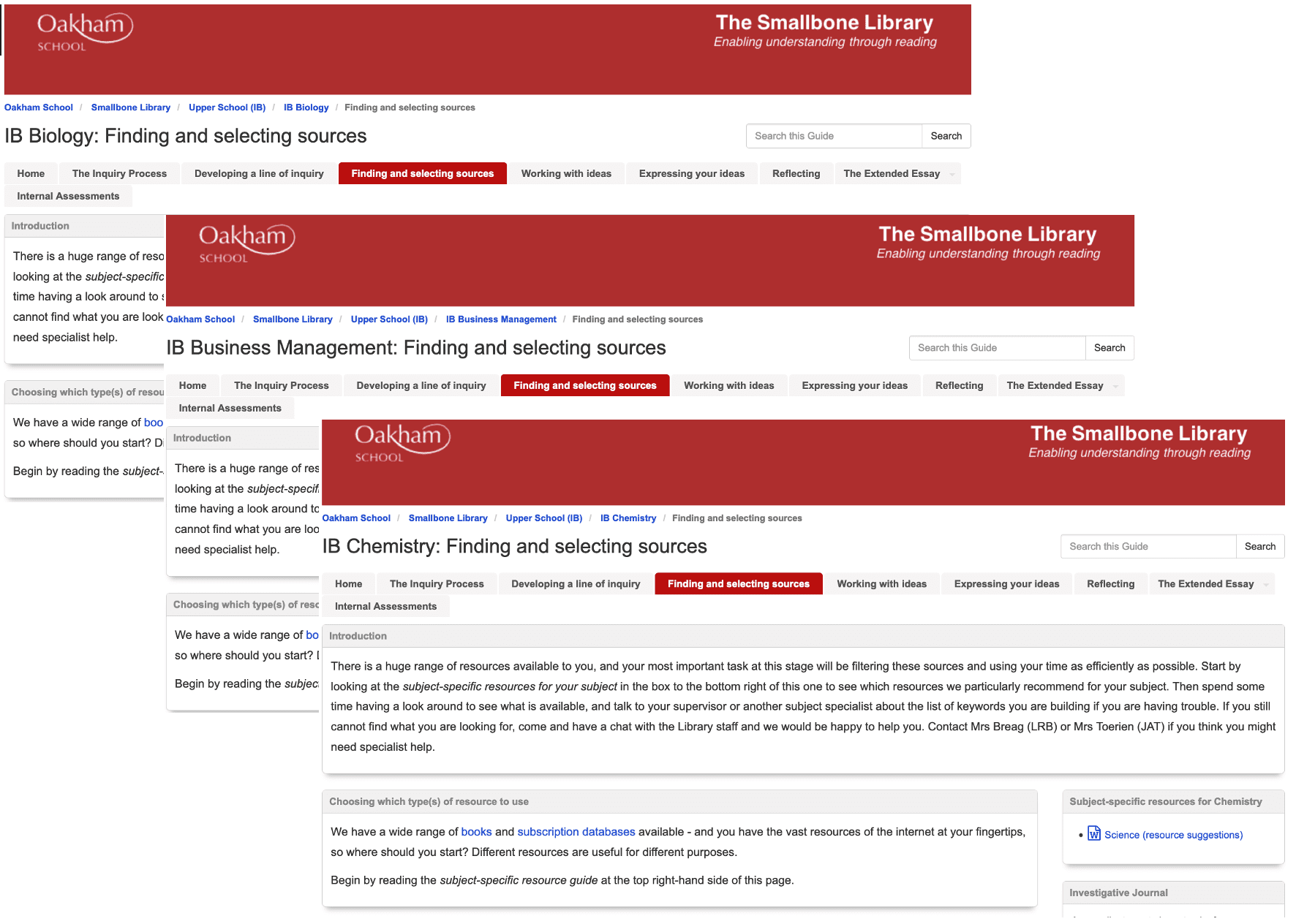 It was confusing for students trying to remember what was in which guide. I had mirrored a number of pages between the General Guide and the Subject Guides to help them to find what they needed whichever guide they were in, but this possibly made it more confusing that some pages were in both guides but some only in one.

Splitting the process between two guides masked the FOSIL structure of the process, because (for good reasons at the time!) Connect was only in the General Guide, Investigate, Construct and Reflect were only in the Subject Guides, and Wonder and Express were in both.

[I didn't originally intend Express to be in the General Guide. This happened as a consequence of the virtual nature of the Writing Days. They were supposed to move from the General to the Subject guide during Wonder and not move back!]
In my redesign I wanted to:
Simplify the structure

Make the hyperlinking (a real strength of the format) work again

Highlight FOSIL and make the FOSIL structure much clearer, helping students to navigate the process better
This is what I came up with: 2020-21 Extended Essay LibGuide

I think it is better because:
It is a single guide for the whole process (sort of… more later!).

Now I can use hyperlinking really effectively as a guide navigation tool, for example I have put contents boxes at the top of pages with a lot of content to help students to navigate them more easily (see below).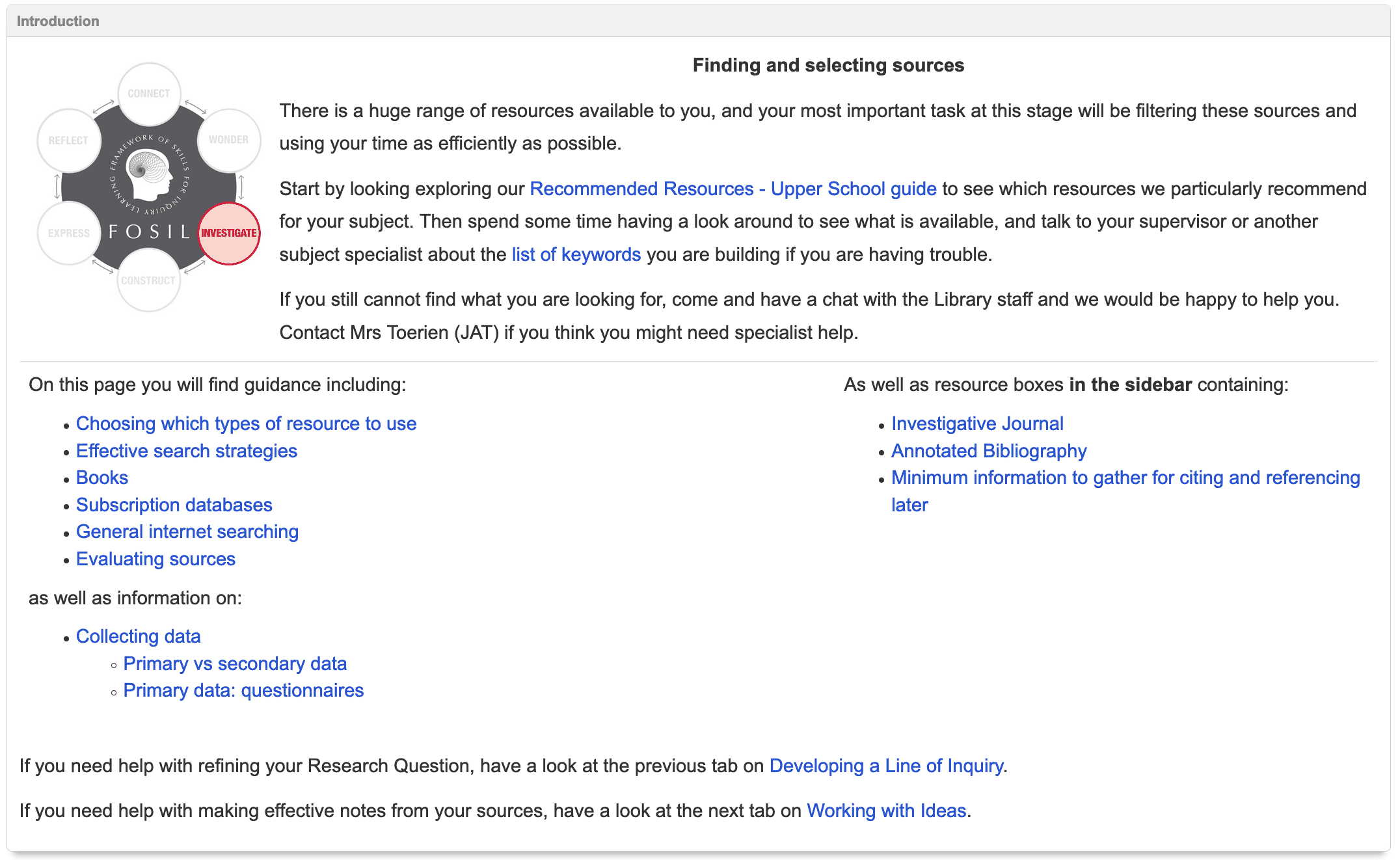 I learnt some CSS over the summer, which enabled me to some colour tabs and boxes in FOSIL colours (it isn't perfect and I've ended up with some unintended colour bands in the Seminars and Workshops drop down menu that I need to try and fix at some point. If anyone has experience with CSS and can help me work out where I went wrong, I'd love to hear from you!). I am really pleased with this. It isn't just cosmetic – for students familiar with the FOSIL colours I think it makes the guide much easier to navigate and less daunting at the start.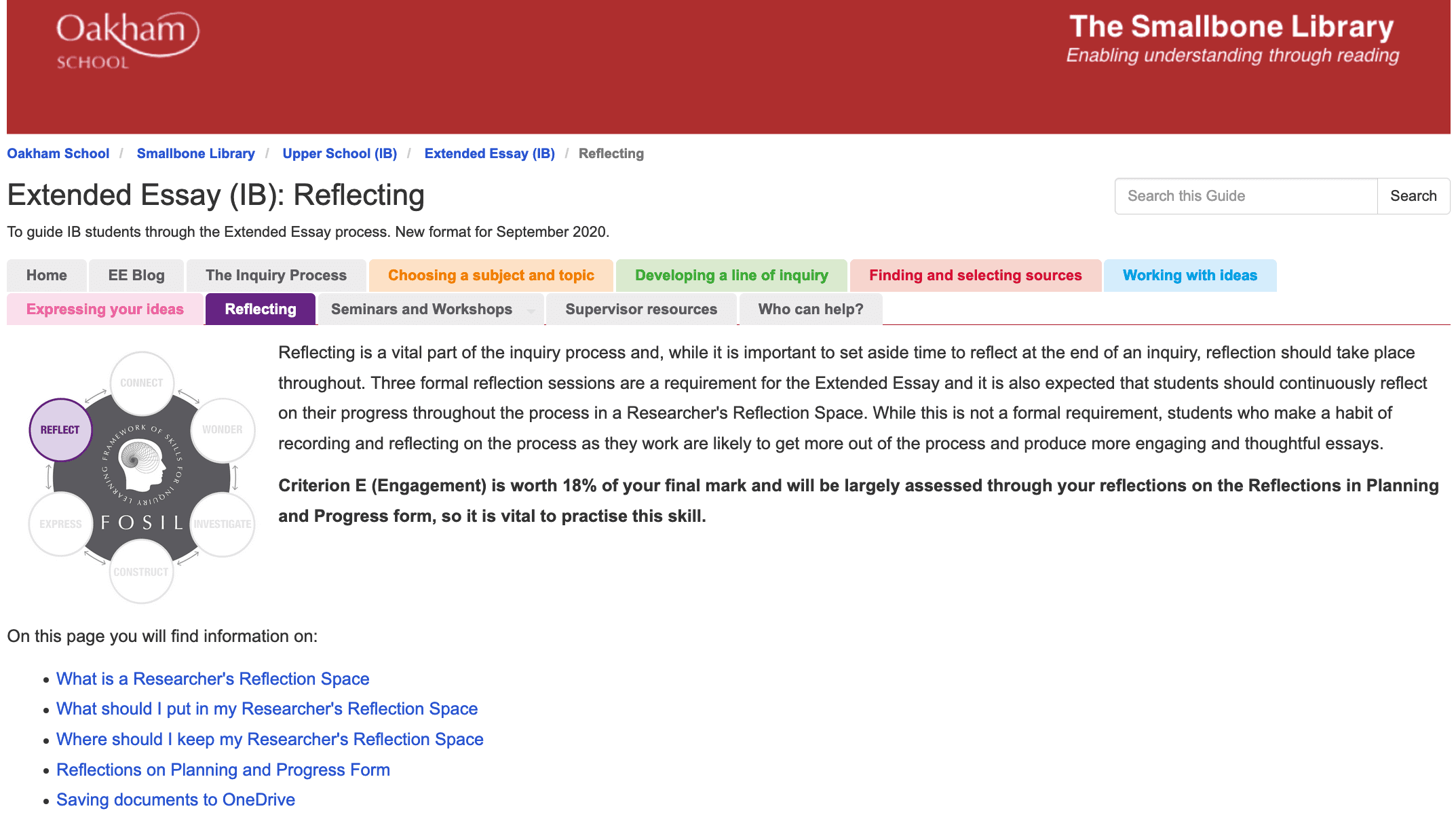 I did cheat a bit in saying everything is in a single guide. Although this guide does cover the whole EE process, it is supported by two (linked) supplementary guides – Recommended Resources – Upper School and Citing and Referencing (APA). The idea is that these are guides that are available for use throughout the Upper School (they are not EE or even IB specific) that give specialist support in two key areas – locating suitabke resources and citing and referencing them. There is no chance of them being confused with the EE Guide because they look very different, and they are already proving very useful across the Upper School more generally (we run A-Level and BTEC courses as well as the IBDP).

The final thing I am using more purposefully this year is the EE blog. All students and supervisors are asked to sign up (there is a separate blog for each cohort), and I can use this as a 'tour guide' to the site and the process, highlighting where students should be in the process at a particular time and which bits of the LibGuide site will be most helpful to them at this point.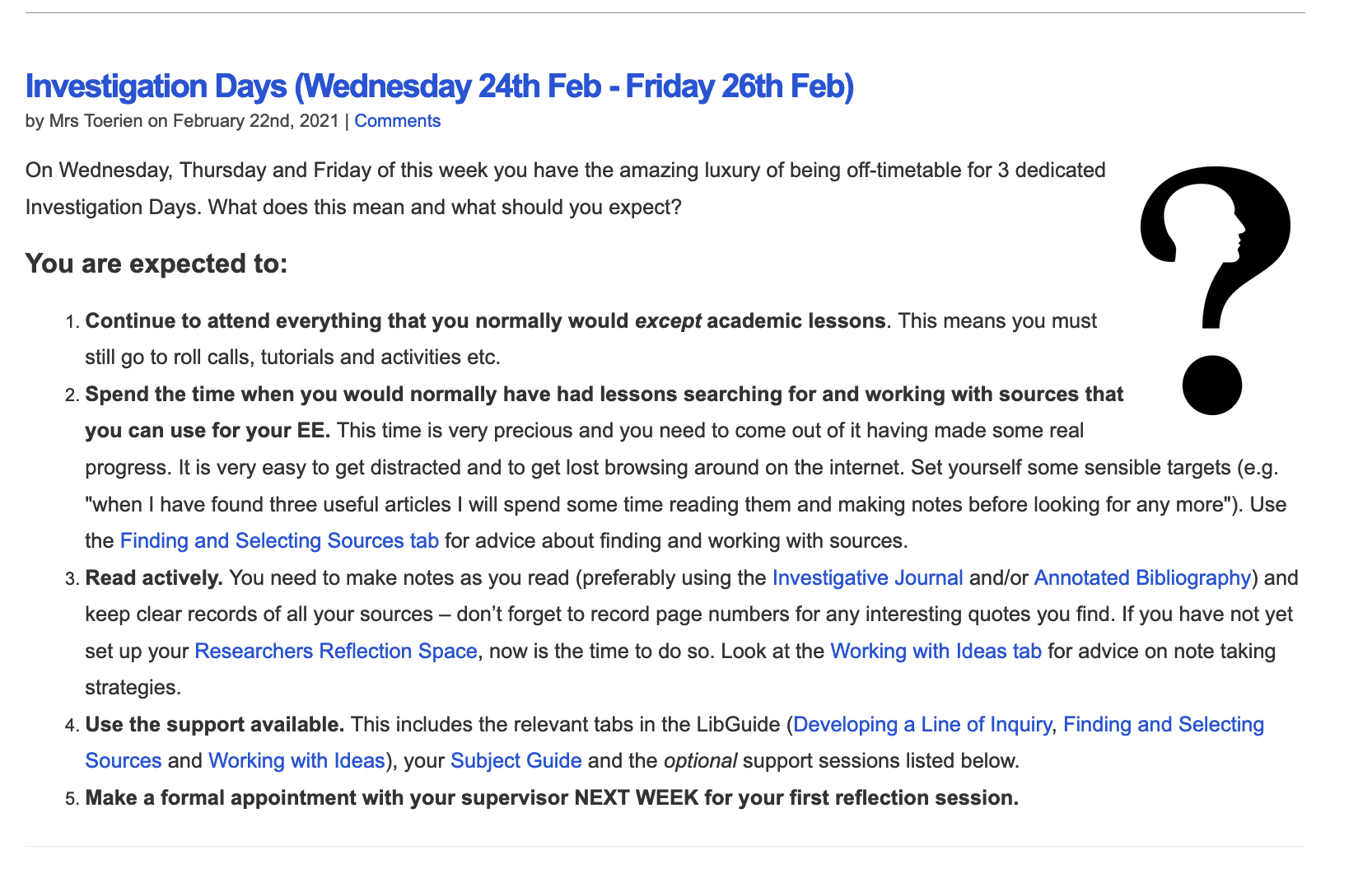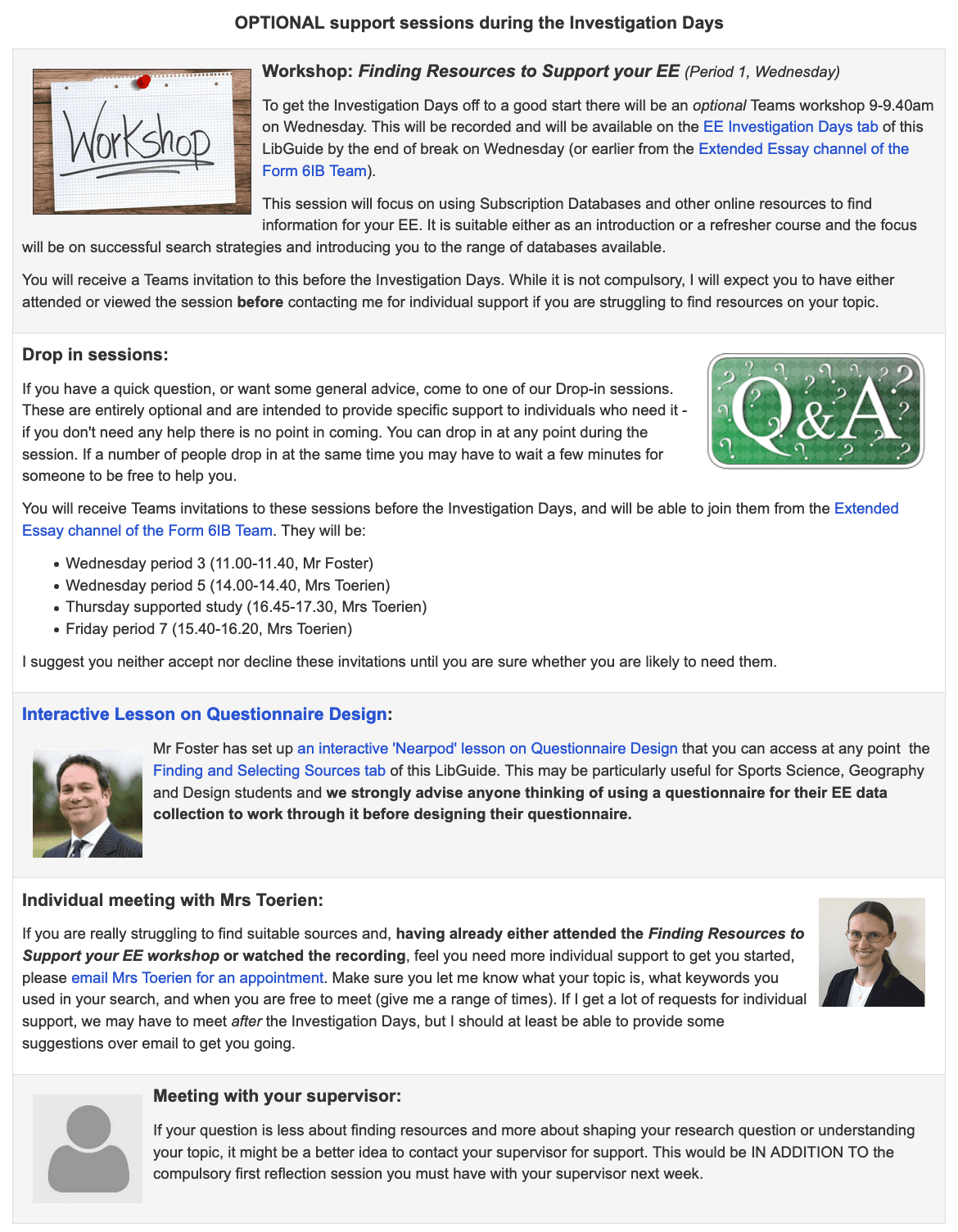 I also have feedback I want to give about how we have changed our support for the IT workshops this year – partly forced as a result of the pandemic, but it has worked so well that I think we will make permanent changes – but that will have to wait for another day!
We'd love to hear about anyone else's EE (Or EPQ) journey here too. How has your provision changed over time? What lessons can you share? How has the pandemic affected what you do, and do you think you will make any permanent changes as a result?