Graphic organizers (at least the ones I create and use) are different from worksheets in several important ways.  First, graphic organizers are skill-based, not content-based.  In other words, they are designed to guide students through the thinking process of performing a skill and to provide transparent evidence that they can perform the skill successfully.  Students must think while they are working through a graphic organizer.  They cannot copy their text on the organizer from any external resource; they cannot simply parrot information that someone else has already figured out.  Traditional worksheets, on the other hand, often ask students to find the right, content-based "answers" in their resource or textbook and simply rewrite the answers on the worksheet.
Graphic organizers are used as a part of instruction, not as a replacement for instruction.  They are used in the moment of an instructional lesson when students are ready to apply the skill on their own, after the skill has been taught, modeled, and practiced as a whole class.  I think we have all had the experience of trying to learn a new skill (I think of learning new technology applications) by reading step-by-step instructions and then realizing that we haven't really learned the skill until we try to do it.  Well-designed graphic organizers provide the opportunity for students to practice the skill on their own; as an added bonus, they often offer embedded guidance and support to students through prompts, strategic visual design (e.g., Venn diagrams or mind mapping webs), reminders, and checklists.  By using graphic organizers, students can independently practice applying a skill they have just been taught, but at the same time feel supported by the scaffolding built in to the organizer.
Graphic organizers are powerful tools to use for formative assessment of skill development.  They allow teachers to see how well students have applied a new skill to build new knowledge and understanding.  Well-designed graphic organizers will enable teachers to assess where and even why students are confused and respond either by intervening with individual students or by reteaching the skill to the whole class.  In other words, graphic organizers are most useful during the process of learning so that adjustments can be made, rather than as a summative assessment to assign a grade at the end of a learning experience.
I think perhaps the main reason that I love using graphic organizers is that they allow me to see inside a learner's mind.  They allow me to join my learners on their path to new understandings.  To me, graphic organizers are an effective tool for engaging with learners during a reflective inquiry journey.
Here is a list of ESIFC graphic organizers that I think would be most appropriate for teaching the skills of deep reading (click on the image to expand it).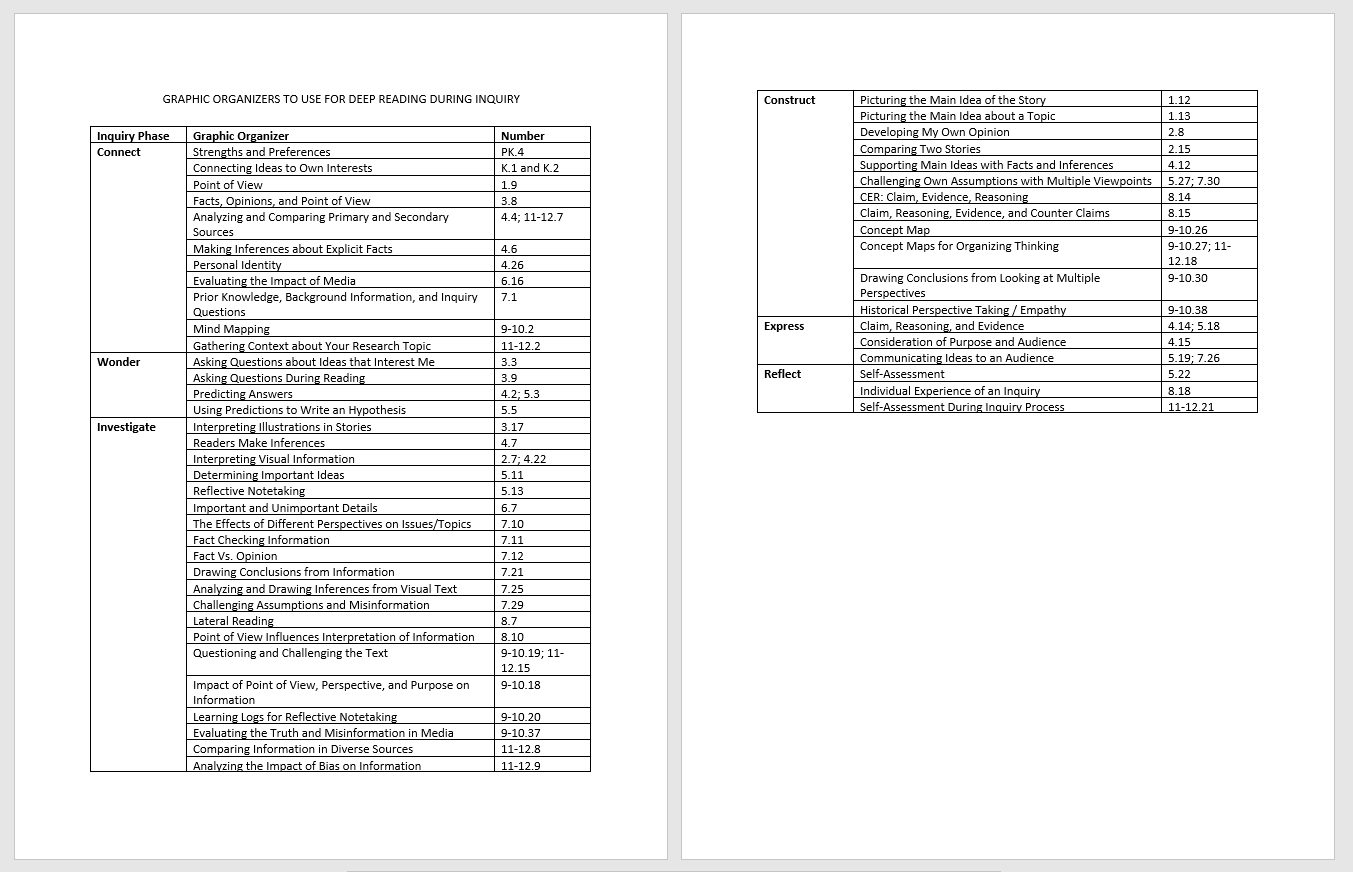 This reply was modified 1 year, 3 months ago by

Darryl Toerien

. Reason: Added list of graphic organizers for teaching deep reading skills
This reply was modified 1 year, 3 months ago by

Darryl Toerien

.