This is an important question, Anne.
These are my immediate thoughts, which I'll develop more fully over the weekend. When is your deadline?
This question needs to be considered from two different perspectives: (1) the inquiry process and (2) the underlying continuum of skills.
Aside: Your context is rare and adds a vital dimension to this discussion, which is that you occupy a vital transitional space between the Lower School (ages 2-10) and the High School (ages 14-18). Am I correct, then, that Lower School is Pre-Kindergarten – Grade 4 (Reception-Year 5), Middle School is Grade 5 – Grade 8 (Year 6 – Year 9) and High School is Grade 9 – Grade 12 (Year 10 – Year 13)? Also, am I correct that while the Middle School prepares students for the International Baccalaureate (IB) Diploma Programme (DP) and/ or the Advanced Placement (AP) Diplomas and courses, you do not offer the IB Middle Years Programme?
From the perspective of the inquiry process we need to consider how familiar students are with the process, in this case FOSIL, at their point of entry (i.e., the extent to which it has been internalized or needs to be explicitly taught). For this some sense of the differences between controlled (closed), guided and free (open) inquiry is necessary. This  is not simply a case of progressing from controlled through guided to open, although it not possible to effectively carry out an open inquiry without having progressed from controlled through guided inquiries.
From the perspective of the underlying continuum of inquiry skills, we need to consider to what extent students have mastered foundational inquiry skills at their point of entry, and to what extent they need to be explicitly taught and practised across the curriculum. We also need to consider how these foundational and further inquiry skills, which will become foundational for the High School, are developed progressively and systematically over time in the Middle School. What is helpful here, is that the IB DP Extended Essay makes undeniable demands of students in terms of the inquiry process and underlying inquiry skills. I imagine that the AP has an equivalent?
Both of these are made more difficult in the absence of a national model of the inquiry process and underlying framework of inquiry skills, so being in a PK-12 school is presents an exciting opportunity to think through this.
In the FOSIL continuum of skills (ESIFC 2009 – still finishing off ESIFC 2019), skills in bold are priority skills (see also below). We have begun to consider which of these and others should be priority skills for us, as well as to what extent they need to relocated to different Years. It would clearly be beneficial to discuss this more broadly, especially now that FOSIL has been endorsed by the Great School Libraries campaign.
For now…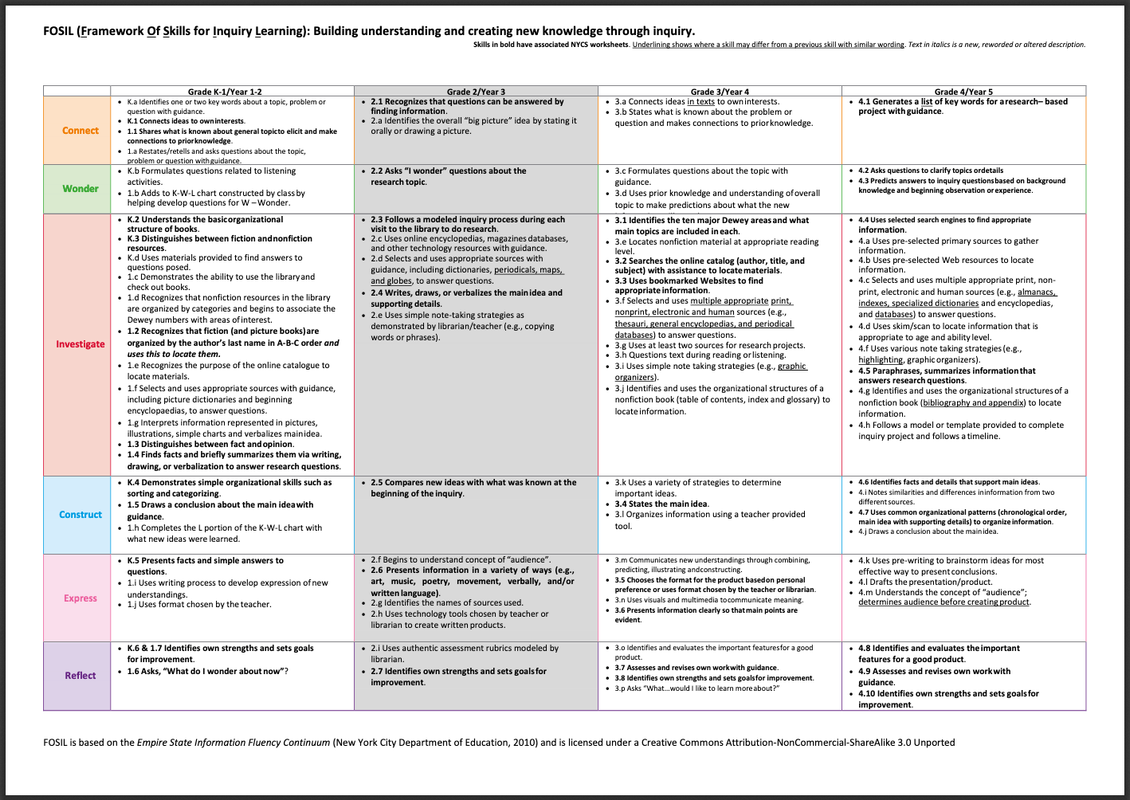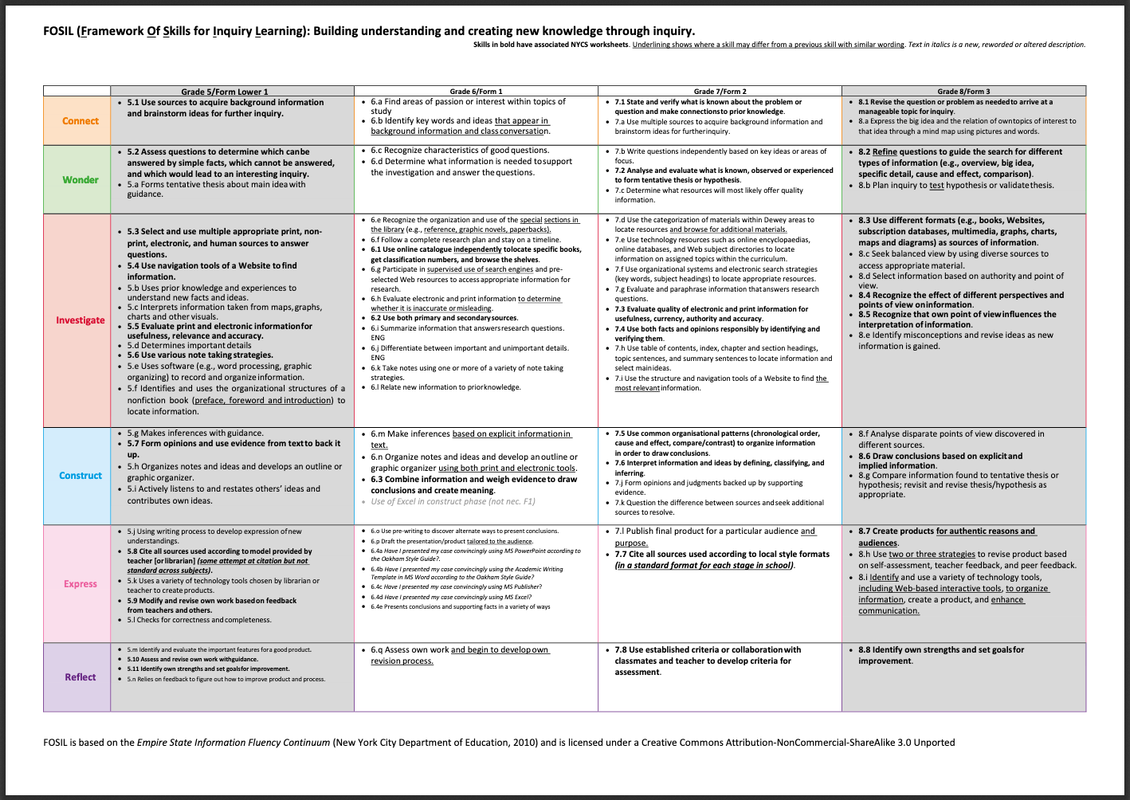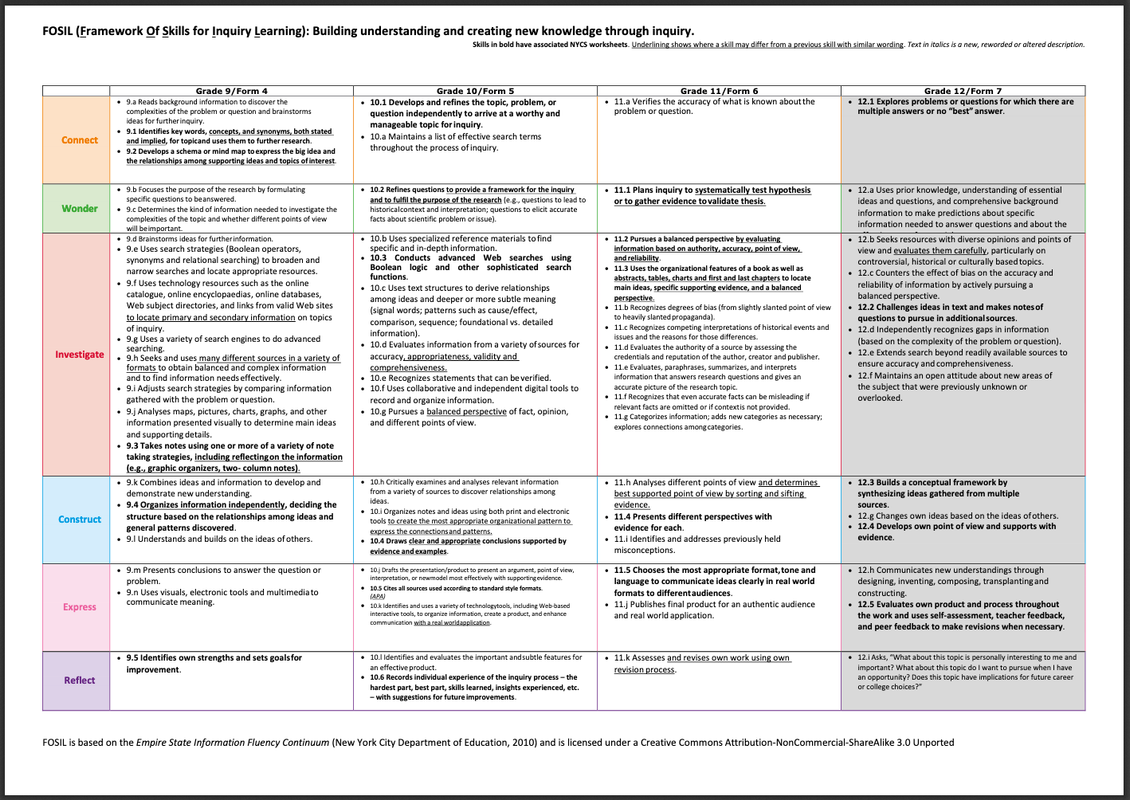 This reply was modified 2 years, 3 months ago by

Darryl Toerien

. Reason: Added images of FOSIL skills continuum