A 'final' consideration is the link between school libraries/ librarians and student achievement. A helpful article is Why school librarians matter: What years of research tell us, by Keith Curry Lance and Debra E. Kachel (March 26, 2018) in Phi Delta Kappan.
However, references to this article are often misleading.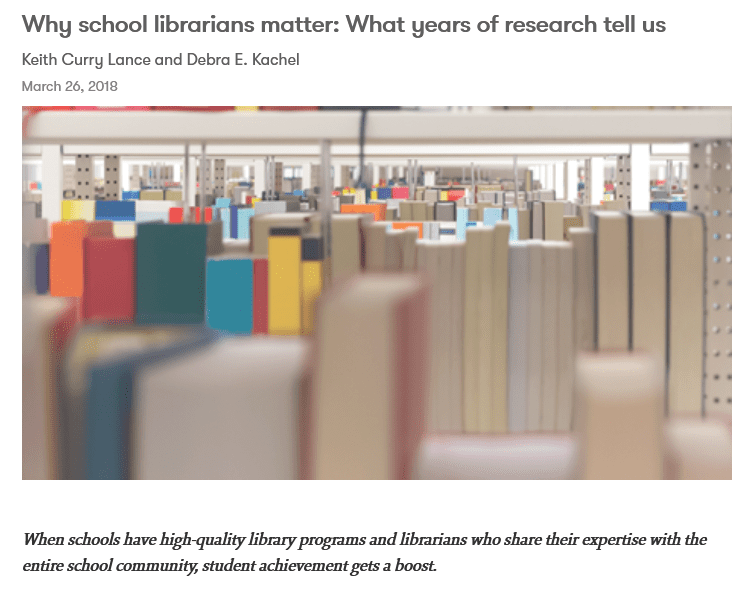 The positive correlation demonstrated since 1992 by the library impact studies is between "high-quality library programs and student achievement". While Lance and Kachel state that "the mere presence of a librarian is associated with better student outcomes," which extend beyond student achievement, this is still in the context of the school library program (i.e., what the school librarian does).
The context of the school library impact studies is specifically American, although they are instructive. As Lance (2019, p. 50) writes in "Last Lecture" Remarks about the Current Status and Future of School Librarianship and School Library Research (in Symposium of the Greats: Wisdom from the Past & A Glimpse into the Future of School Libraries, edited by David V. Loertscher and Blanche Woolls):
Ironically, while most of us understand the profound limits of standards–based testing—not to mention the devastating toll it has taken on U.S. public education—it is a simple fact that a quarter–century of impact studies would not, and could not, have happened had it not been for the ubiquity of such testing and the high stakes put on their results. Except for their ubiquity, the data necessary for the research would not have existed. Except for the high stakes, nobody would have cared enough to bother funding research like ours.
This, in my opinion, is the real value of the IFLA Guidelines, which is that they apply the lessons of the school library impact studies to an international research context stretching back over 60 years.
The key point, then, is that the distinguishing features of a school library as outlined in the IFLA Guidelines – professional and paraprofessional staffing levels appropriate for the size of the school and its unique needs, delivering a high-quality pedagogical program based around the core instructional activities, supported by targeted high-quality diverse collections, and subject to an explicit policy and plan for ongoing growth and development – are the optimal conditions for the school library to produce said positive correlations with student achievement, and related desirable outcomes.
It is fine if we – individually and/ or collectively – do not yet have all of this, but it is vital to our success that we be clear about what we need to be striving for.