Hello and welcome.
If I am not mistaken, S1 – S3 equates to Year 7 – Year 9 in England (and Grade 6 – Grade 8 in America).
The existing structure of 6 lessons lends itself well to framing induction through FOSIL, although 50 minutes would be preferable to 20 minutes for a number of reasons.
Firstly, the skills / skill sets that are currently taught, while important, are logically part of a larger learning process (see Figure 1 below), and broadening out induction to meaningfully include representative and developmentally-appropriate skills / skill sets from all the stages in this learning process in 20-minute lessons will be difficult, though not impossible.
Figure 1: FOSIL Inquiry Cycle Skill Sets (click on image to enlarge and download as high resolution PNG image from here)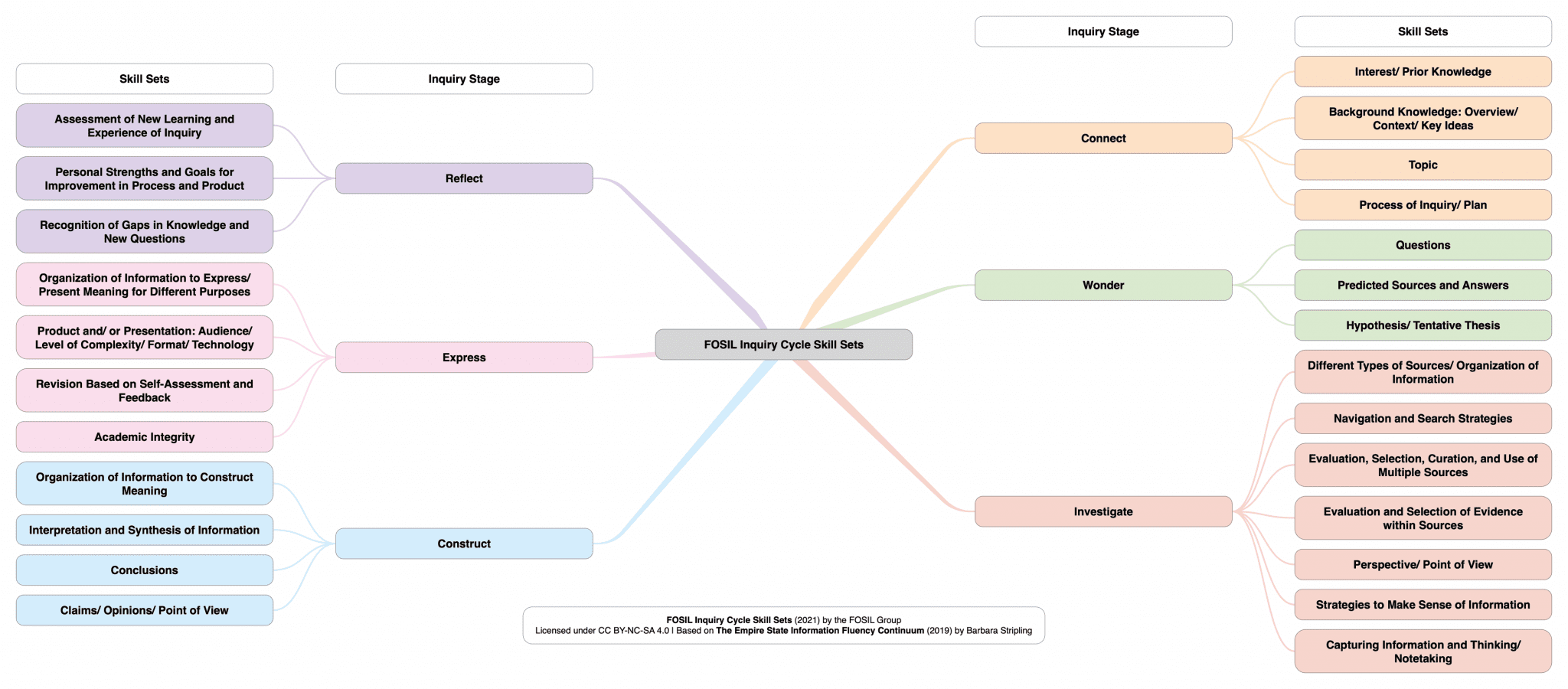 Secondly, engaging students in an inquiry is an effective way to both induct them into the inquiry learning process, and for you to teach and for them to learn / practise the skills that enable the process, which include media and information literacy skills.
Thirdly, by embedding these skills within an inquiry learning process, which is necessary for independent learning, you create an opportunity to collaborate with classroom colleagues on identifying how best to make the induction / inquiry relevant to subject area learning. Three examples serve to illustrate our efforts to meaningfully relate induction to subject area learning:
Our Year 9 FOSIL Inquiry Skills Project (S3 / Grade 8) is very effective and has served to inform our work both higher up and lower down the school (see also the associated LibGuide: F3 Inquiry Skills – this particular LibGuide is for a highly-condensed version of the Project necessitated by COVID-19 restrictions, so 1 x 50-minute lesson rather than the normal 5 x 50-minute lessons, which we are intending to return to in September)
Our Year 7 English Inquiry – Science Fictional Writing (S1 / Grade 6) is a 5/6-lesson inquiry that is part of a 12-week unit in English, and could be extracted and adapted for another context (see also the associated LibGuide: F1 English – Futuristic Writing)
Our Year 12 FOSIL Investigation (S6 / Grade 11) was designed under severe time constraints, but has been so successful that it is being redesigned for 5 x 90-minute lessons (see also the associated LibGuide: F6 FOSIL investigation)
Hopefully this gives you something useful to work with.
Darryl