Thank you, Barbara.
Having now started as Head of Inquiry-Based Learning at Blanchelande College in Guernsey, which is a PK-12 school, I have an exciting opportunity to collaborate with colleagues in Infants (Reception to Year 2 / PK-1) on how upcoming work might be approached through FOSIL.
While I know that FOSIL – as a instructional model of the inquiry process and framework of inquiry skills – is sound, and now have more than 10 years of experience in designing and supporting FOSIL-based inquiries, this is my first opportunity to do so at the very outset of the lifelong information-to-knowledge journey.
I asked for the topics, as well as what the classroom teachers thought might serve as a starting point for developing essential questions for those topics. I will return to essential questions later, but McTighe & Wiggins (2013) write that essential questions engage students "in uncovering the depth and richness of a topic that might otherwise be obscured by simply covering it" (p. 2). This insight is important, because the inquiry process is personalised and energised by questions that result from engagement with an essential question.
In the meantime, I extracted the priority FOSIL skills for Reception to Year 2, and included Year 3 (Grade 2) to have the transition to Juniors in mind.
Figure 1: FOSIL Priority Skills for PK-2 (click on the image to enlarge or here to download the image as a PNG)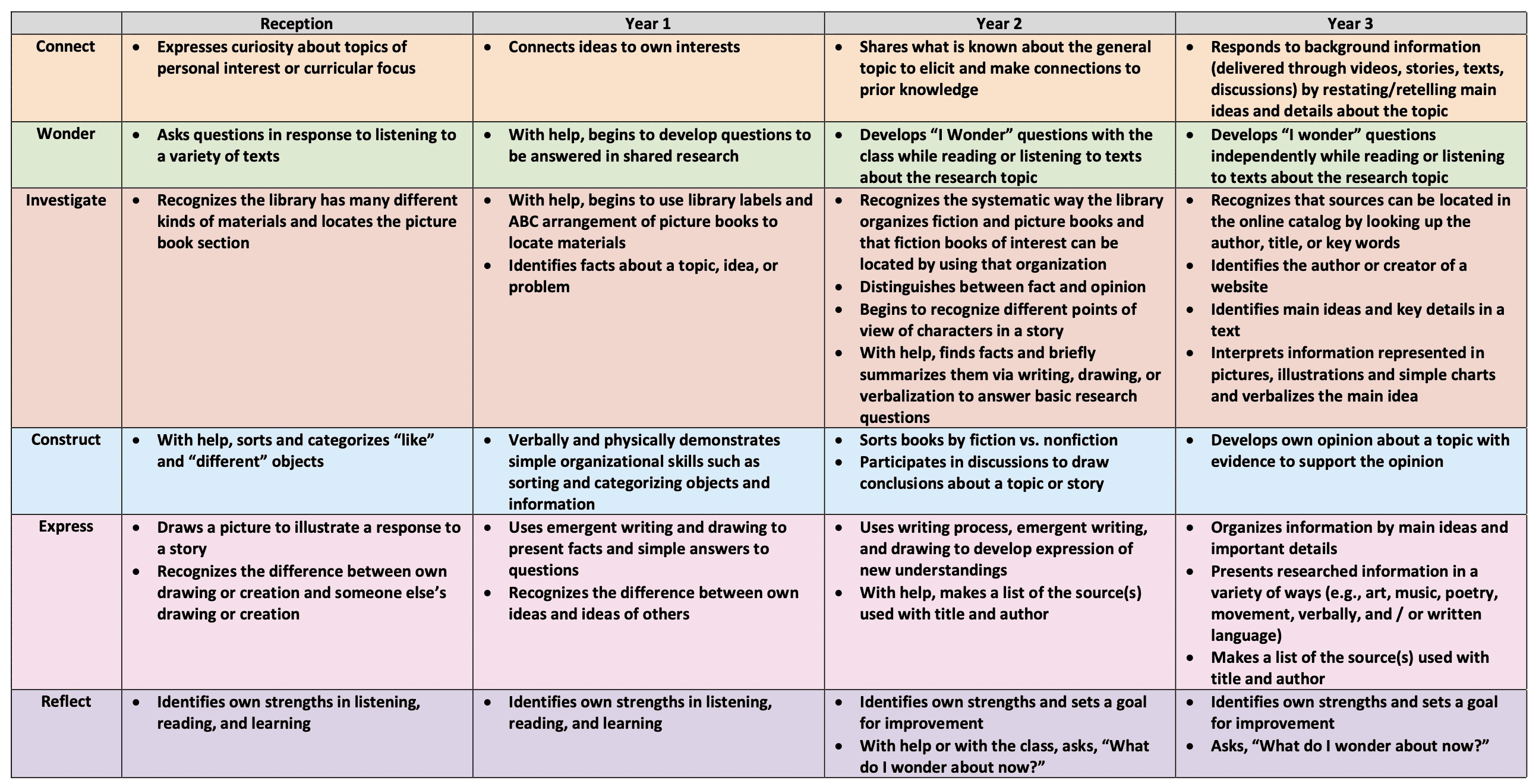 Having begun work on the Year 12 (Grade 11) Extended Project Qualification (see this post), in which citing and referencing is an essential skill, what immediately stood out to me was that a concern with academic integrity is already present in Reception and manifests itself in student work in Year 2.
My colleagues came back with the following:
Reception (aged 4-5 / PK)

Topic: Marvellous Me
Question(s): Are we all the same? In what ways are we similar? In what ways do we differ from one another?
Year 1 (aged 5-6 / K)

Topic: Where do I live?
Question(s): Is Guernsey an interesting place to live and visit?
Year 2 (aged 6-7 / Grade 1)

Topic: Castles
Question(s):  Why did they build castles and what was life like inside a castle?
Setting aside subject area content for the time being, and resources, it becomes clear very quickly how individual priority skills combine to give each inquiry a different emphasis, while those skills are developed systematically and progressively over the course of 3 years.
I will post my preparation later.
References
McTighe, J., & Wiggins, G. (2013). Essential questions : opening doors to student understandings. Alexandria, VA: ASCD.