It's been a very busy year since I first picked up the role of EPQ co-ordinator, and I realise I haven't made the time to update you on my journey. Setting up a new course from scratch is quite a learning curve! We had our first results as a centre certified over the summer (for the group that I took over part-way through), and next week my first full-year cohort will do their presentations, submiting their projects the week after. I've been working on getting my 'Medium Term Plan' (essentially a set of unit overviews and a week-by-week scheme of work) into the school template for the Director of Studies in preparation for starting the whole process again with the new Year 12 cohort in a couple of weeks time. It has been a great opportunity to both reflect on the journey so far and to look ahead to refining the course next year (Departmental Action Plan is next on my list!).
Key opportunities over the year have been:
a presentation to all Year 11 and parents in October at the Sixth Form Information Evening about the EPQ as they look ahead to their A-level choices (new this October)
a session with all Year 11s in November and June as part of the Sixth Form Taster/Bridging days, and an opportunity to set bridging work over the summer for those who are potentially interested in an EPQ
a six week inquiry course for all Year 12 over September and October to develop key inquiry skills and mindset that they will all need for the sixth form, regardless of whether they take an EPQ
all Year 12 and their parents (and interested Year 11) will attend this year's Year 13 EPQ presentations (on the same evening that Year 12 present the fruit of their own inquiry course – more on that elsewhere), just before Year 12 apply for their places on this year's EPQ course.
These developments mean that the incoming Year 12 will have a much better idea of exactly what the EPQ involves before they start, will have had considerable time to mull over potential topics, and will also have had a boost in key inquiry skills (particularly, but not limited to: developing good questions, basic database searching, CRAAP testing and basic citing and referencing) before the formal EPQ taught course begins. Given the necessity of front loading the taught course in order for students to be able to begin choosing a topic and start background research as soon as possible, all these developments are really helpful. Particularly as the time for our taught course is spread evenly over our EPQ year (1 hour a week for just over 30 school weeks from November to November).
I've done a bit of rejigging of my original teaching plan – focussing on skills needed for locating background resources earlier and looking at what makes a good question later, for example. Connect before Wonder! Last year I regarded resource location as an Investgate skill so, although I did touch on it briefly early on I didn't really focus on it until later. I think it would help my students to be better at locating resources earlier on. The school unit template (which every subject uses) has also been really helpful because it encouraged me to think about Entry Questions and Topical and Overarching Essential Questions for each unit. Quite a mind-bender in some ways for a course that is entirely skills based with no content as such (because students determine their own content) but actually very useful in crystalising what the purpose of each unit actually is. All subjects in our school have to list key FOSIL skills for each unit in their unit plans, and for me it was an opportunity to revist the FOSIL Skills Framework to check I was covering everything we should be expecting of Year 12 and 13.
I share my Medium Term Plan here with the same caveat I always give – it is very much a work in progress (in just its second year) and I expect it to evolve considerably in the future. Part of our radical commitment to sharing in this group is to share works in progress so that we can learn from and with each other. I'm sure their are many of you who are more experienced with the EPQ who can offer me some good advice! Note that the first 14 pages are the overarching Unit Plans (see image below. Download Word version here):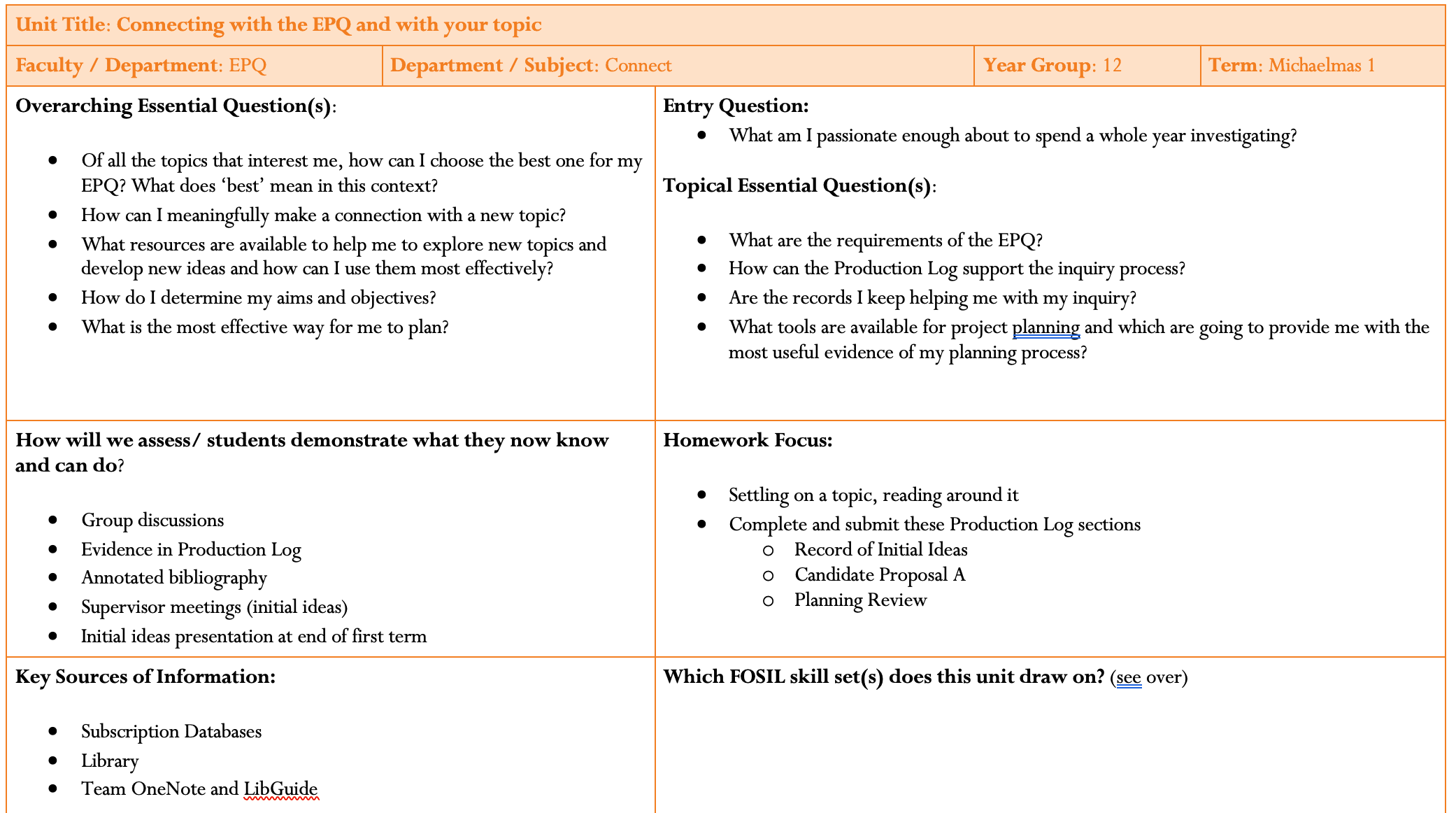 While pages 15-19 are essentially the Scheme of Work (see image below. Download Word version here):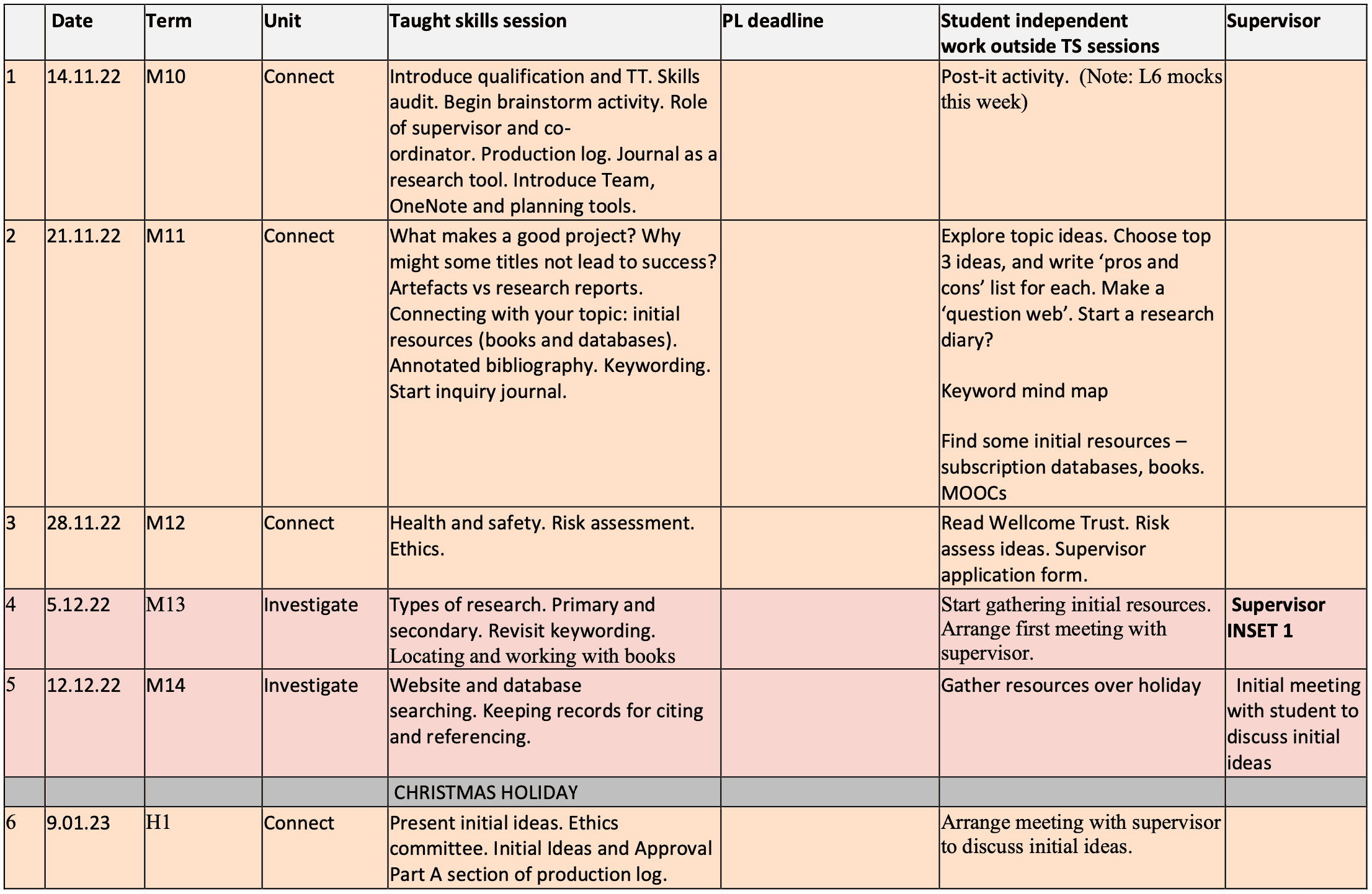 I would love to hear what others are doing, and to hear comments and suggestions on what I could improve in my taught course. I have so much I want to do, it's hard to know where to begin! One of my plans this year is to get a LibGuide up and running for the course (we just used a Team with an integrated OneNote last year, but I think a LibGuide alongside those would work better than just posting resources in the Team OneNote). I also want to get students experimenting early on with time management tools – either simple ones such as the To-Do lists in Outlook or some of the more complex online options (I found an interesting list here but need to explore it further to see which might be worth recommending – if anyone has experience with any of these tools I'd be very interested. I'm quite interested in Todoist and ClickUp, at a quick glance, but have no experience with either). I'm convinced that most of my students are more likely to monitor their progress against their planning if their intial planning was in an interactive tool, where they could easily tick off tasks and adjust deadlines, than if they initially planned on paper.